Spit Your Hottest 16 w/ Black Knight, Steve-T & JR.. Win Dre Headphones & More!
Spit Your Hottest 16 is Sponsored by the Cornerstone 
Product of Z180Radio.com
We are excited about offering this contest to the public. We are offering Beats by Dre Headphones for every contest, an Exclusive Beat from each Producer, marketing packages from Z180Radio.com, Dasouth.com and Prize Packages from our sponsors. (Reach Records, Clear Sight Music, Strn & Nrrw Clothing and Dasouth.com)
There will be no profanity or derogatory statements! All lyrics must be positive and lift up the name of Jesus!
$4 Entry Fee Per Contest or $10 to enter all 3!
Download Black Knight Beat from July 30th – August 12th on Z180Radio.com
Download Steve – T Beat from August 13th – August 26th on DaSouth.com
Download JR Beat from August 27th – September 9th on Z180Radio.com
You can enter all 3 contests, but you can only win once! All verses are due September 10th!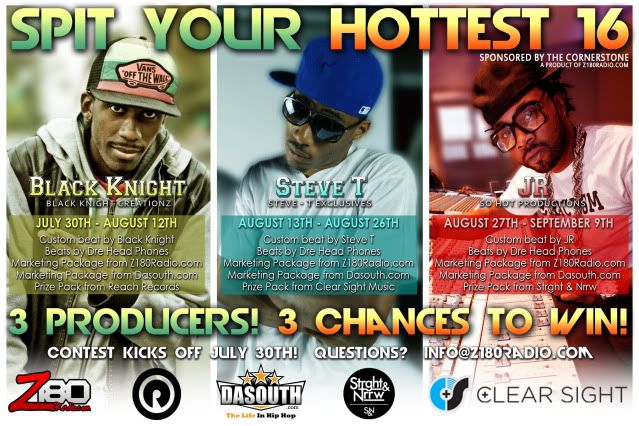 Winner for each contest will be announced October 8th 2012!
There will be a cut off of entries, so sign up today!
Click Here to Sign Up!